The TEFL industry is one of the fastest-growing teaching industries. The demand for learning English is rising very rapidly and so is the number of TEFL teachers.
Nowadays, the TEFL industry has become one of the booming teaching industries which inspire many individuals to become TEFL teacher. Because the desire to learn English all across the globe has been rising and rising as time goes on which creates a huge opportunity for every capable TEFL teacher across the globe.
According to studiesby British Council and teachaway.com , 1 in every 4 people currently learn English worldwide, and more than 100,000+English teaching jobs open jobs every year.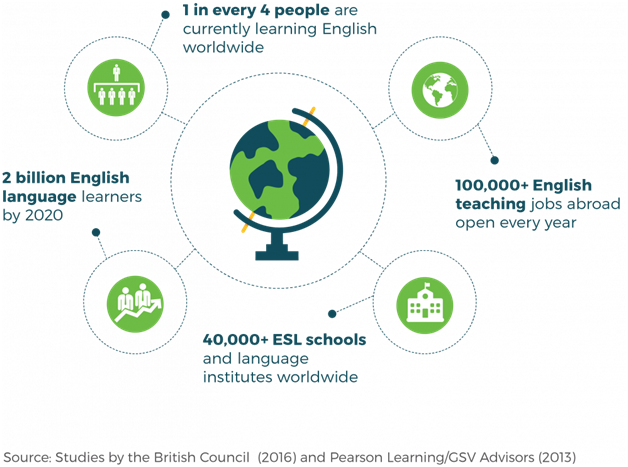 Source: teachaway.com
Many people choose to get their TEFL certificate authenticated in order to increase their job prospects and have their qualifications recognized internationally.
After completing any TEFL courses like Online TEFL Courses & 120 hour TEFL Course Online , every individual wants to check and know whether the certificate is real or not. Because by authenticating the TEFL certification one can be assured that there will be no problem occurring in the future during their hiring process and make them eligible to work as a TEFL teacher to their favourite destination.
However, you may have questions on your mind like- How can I verify my TEFL certificate? No, need to worry, because we have created this blog boat specifically to answer this question and we have shared multiple ways to authenticate your TEFL certificate.
Multiple Ways for TEFL Certificate Verification
There are options available for verifying your TEFL certificate. You can. Utilize an online verification service or reach out to your local TEFL certification provider or educational institution for verification purposes.
Online verification services offer a solution as they don't require direct contact with your institution. They verify the authenticity of an applicant's qualifications by cross-referencing the information provided on the certificate copy with that on the document.
Alternatively, you may choose to contact your TEFL certification agency or educational institution to authenticate your TEFL certificate. This approach allows the agency or institution to confirm both the genuineness of the certificate and the validity of the course completed.
To streamline the process of verifying your certificate, considers utilizing online verification services or reaching out to your local TEFL provider or educational institution. Once the verification procedure is complete, you will receive a verification letter that can be used for applying to teaching positions abroad.
Now let's explore three ways through which you can successfully undertake TEFL certificate verification:
1. Acquiring an Apostille for Your TEFL Certificate
Obtaining an apostille is considered one of the efficient methods, for verifying your TEFL certificate. It saves time compared to having it verified by your TEFL certification institution or educational establishment.
Hence it is generally recommended to apostille your certificate, as the optimal choice.
When you need to get your TEFL certificate apostilled you should visit the legalization office at your embassy. The embassy will carefully review all the credentials of your certificate. Once they are satisfied with its authenticity they will provide an "apostille" stamp, which adds credibility to the certificate.
Having your certificate apostilled is highly recommended by employers because it is harder to counterfeit an apostille. Therefore, it serves as a secure form of verification. It also simplifies the process for potential employers to accept your certificate since it officially confirms that your qualification is genuine and valid.
Additionally, you must also know that getting your TEFL certificate apostilled requires time and offers the highest level of security and acceptance in terms of verifying your TEFL certification.
2. Verify Your TEFL Certificate Through Official Entities
One of the effective methods to verify your TEFL certificate is by seeking assistance, from the Embassy, Consulate, or Notary Public. You can submit your certificate to the respective authority in either your own country or the country where you plan to teach. Following a verification process they will issue a verification letter.
Please be aware that the Embassy, Consulate, or Notary Public may require documents or information such as a photocopy of your passport to validate your identity prior, to providing the verification letter.
Additionally, you must also know that it can take longer to receive a letter of verification, as the process usually involves completing a number of forms and providing extra documentation.
3. Validate your TEFL certificate through Third-Party organizations
Apart from the TEFL verification through apostille process, embassies, consulates, or notary public procedures, there are organizations that also offer their own services for verifying TEFL certificates. These organizations provide convenient and prompt verification services at a reasonable and budget-friendly cost.
When you choose to use an organization, for TEFL certificate verification you will be required to submit the following documents:
A signed copy of your certificate
Your driver's license
Your passport
Your birth certificate
Once you have submitted all the documents the organization will carefully review them and issue an official verification letter that serves as proof of the authenticity of your TEFL certificate.
TEFL Certificate Verification is Easier Than You Think
There's a huge demand for learning the English language which also creates various opportunities for capable TEFL teachers all around the world. To become a TEFL teacher, the very first step is to pursue a TEFL course like Online TEFL Courses&120 hour TEFL Course Online from a reputed institute, however, one must be worried about the authenticity of that certificate and look for a way to authenticate their TEFL certificate.
Getting your TEFL certificate verified is one of the important steps to ensure that your qualifications are recognized globally and legit at the same time. All of the above-mentioned tips to authenticate your TEFL certificate can help you in your journey to become a proficient English teacher and help open the doors to further career opportunities.